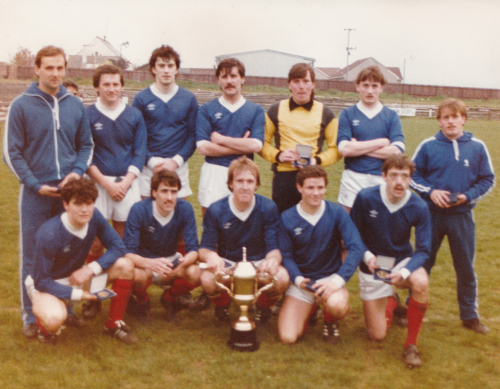 THORNTON SPORTS CUP WINNERS
LORIMER LEAGUE 'A' DIVISION

| | | | | | | | | |
| --- | --- | --- | --- | --- | --- | --- | --- | --- |
| | PLD | W | D | L | F | A | GD | PTS |
| Linlithgow Rose | 22 | 18 | 3 | 1 | 53 | 14 | +39 | 39 |
| Broxburn Athletic | 22 | 14 | 4 | 4 | 42 | 27 | +15 | 32 |
| Ormiston Primrose | 22 | 12 | 3 | 7 | 41 | 34 | +7 | 27 |
| Bo'ness United | 22 | 12 | 2 | 8 | 43 | 34 | +9 | 26 |
| Newtongrange Star | 22 | 10 | 4 | 8 | 50 | 37 | +13 | 24 |
| Arniston Rangers | 22 | 8 | 6 | 8 | 32 | 28 | +4 | 22 |
| Haddington Athletic | 22 | 8 | 4 | 10 | 31 | 34 | -3 | 20 |
| Fauldhouse United | 22 | 8 | 3 | 11 | 31 | 40 | -9 | 19 |
| Tranent Juniors | 22 | 7 | 4 | 11 | 35 | 40 | -5 | 18 |
| Dalkeith Thistle | 22 | 6 | 5 | 11 | 22 | 34 | -12 | 17 |
| Camelon Juniors | 22 | 3 | 4 | 15 | 26 | 55 | -29 | 10 |
| Penicuik Athletic | 22 | 2 | 6 | 14 | 24 | 53 | -29 | 10 |

Relegated from
'A' Division:

Camelon Juniors
Penicuik Athletic

Promoted to
'A' Division:

Bonnyrigg Rose
Whitburn Juniors
OPPONENTS

VENUE

SCORE

MATCH DETAILS

Arniston Rangers

H

2-2

?

A

1-2

Weir

McLafferty, Burrell, Duncan, Combe, Hughes, Hamilton, Scott, Hislop, Weir, Aird, Young. Subs: McColl, Grandison.

Bo'ness United

H

4-1

Combe, Hislop, Murphy, ?

A

0-1

H

4-1

Young 3, Hislop

A

2-1

Young, Hislop

H

3-1

Weir, Scott, OG

A

3-4

Young 2, Aird

Dalkeith Thistle

H

4-2

Hislop, McColl 3

A

1-0

Scott

Fauldhouse United

H

5-0

McColl, Aird, Weir, Combe, ?

A

3-0

Weir 2, Brown

Haddington Athletic

H

2-2

?

A

2-3

Watson, Young

Linlithgow Rose

H

1-2

Scott

A

1-4

?

Ormiston Primrose

H

A

1-3

Scott

Penicuik Athletic

H

2-2

Scott, McColl

A

Tranent Juniors

H

2-0

Hislop, Scott

A

3-2

Hislop 2, Scott
SCOTTISH JUNIOR CUP

ROUND

VENUE

OPPONENTS

SCORE

MATCH DETAILS

1

A

Irvine Meadow

0-3
RADIO FORTH CUP

ROUND

VENUE

OPPONENTS

SCORE

MATCH DETAILS

1

H

Thornton Hibs

4-1

Hamilton, Hislop, Young, Weir

McLafferty, Grandison, Duncan, Combe, Hamilton, McColl, Young, Hughes, Weir, Aird, Hislop. Subs: Watson, Murphy.

2

H

Sauchie Juniors

2-0

Scott, Watson

3

H

Linlithgow Rose

1-1

Scott

McLafferty, Grandison, Duncan, Combe, Watson, Hamilton, Young, McColl, Hislop, Aird, Scott. Subs: Murphy, Weir.

A

Linlithgow Rose

0-1
DRYBOROUGH CUP

ROUND

VENUE

OPPONENTS

SCORE

MATCH DETAILS

1

H

Tranent Juniors

1-2

Scott
THORNTONS SPORTS CUP

ROUND

VENUE

OPPONENTS

SCORE

MATCH DETAILS

1

A

West Calder United

3-1

Young, Scott, Weir

2

A

Penicuik Athletic

2-1

Young, Scott

QF

H

Bonnybridge Juniors

3-0

Young, Hislop, Weir

SF

H

Sauchie Juniors

1-0

Scott

F

N

Broxburn Athletic

1-1

Aird

N

Broxburn Athletic

1-0

Weir

McLafferty, Burrell, Duncan, Combe, Grandison, Hamilton, Scott, Murphy, Weir, Aird, Hislop. Subs: Young, McColl.

WEIR'S WINNER KEEPS CUP IN NEWTONGRANGE
Advertiser

Newtongrange Star retained the Thornton Sports Cup last week when they beat Broxburn Athletic by a solitary Colin Weir goal at Newbyres Park, Gorebridge, in a hard-fought replay which saw both teams reduced to 10 men before the end.

Ten days after these two Laidlaw 'A' Division clubs had drawn 1-1 at Linlithgow in a sun-drenched Saturday final, they re-met on a dreich miserable night a Gorebridge and most of the play reflected the weather with a dour struggle witnessed by a small, but vociferous crowd.

A tight start saw both defences dominate giving little away but although Nitten had the bulk of possession the only two worthwhile efforts at goal came McLafferty's way.

The Victoria Parkers took a 3-0 corner lead by the 16th minute but Aird's flag kick, though finding Hamilton's head, only flew over the bar.

John Hislop buzzed around and his close-in shot next troubled ex-Star keeper Johnny Ball.

POOR

The Linlithgow final had produced an early Ian Haxton goal but the replay saw no such early breakthroughs with both teams determined at least not to concede a goal.

Broxburn's first corner in 23 minutes saw McLafferty in action comfortably clutching a Livingstone header.

But generally play was a poor standard for a cup final while Newtongrange, who won the cup in 1983, persisted in the high ball looking for Weir, Broxburn counteracted that with Davie McOwat's height and tenacity.

McLafferty, however, kept a tidy goal for the Star but Broxburn on the break through McNaughton in 40 minutes should have done better than see Pittman head high over the bar.

Davie Scott toiled manfully in that first half but was unlucky with his passing.

The second half could only improve on the goalless first but it was Broxburn who resumed with some purpose.

But a John Hislop free kick brought out the best in goalkeeper Ball in 55 minutes with the teams balanced now at four corners apiece.

RATTLED

But all that changed in the 61st minute when the Star scored. A free kick was floated over from the left, taken a few yards from the corner flag, by Jimmy Aird and tall Colin Weir rose to head a high dropping header into the Broxburn net for a hard-earned goal. At last the Star led 1-0.

Broxburn were clearly rattled by that good goal and the game took a nasty turn following an incident in the 69th minute deep inside the Star half.

When the dust had settled, Star's Grandison and Broxburn's Pittman were both ordered off. At the same time Murphy of Newtongrange was booked.

Football took a back seat for a spell as the game, with 10 men aside now, becoming rather physical and ragged. But, if anything, Broxburn put in a better last quarter of an hour than Newtongrange who, at times, hung on by the skin of their teeth, sorely missing Grandison's influence.

Broxburn, too, contributed to their defeat with numerous missed chances or a knee or leg would stop a netbound shot out of nowhere.

RIVALS

'Burn led 7-4 on corners in the dying minutes with the cup slipping out of their reach but at the finish the Star had the larger slice of Lady Luck's good fortune and some stout hearts in their defence.

A fine achievement for the Star to win the cup for the second year running and apart from Victoria Park, where better to win a cup than at the home of their closest rivals, Arniston Rangers who were very accommodating hosts.

So the cup stayed in Midlothian and for the Star's hard season they at least have silverware to show for it.

I thought the best for Newtongrange Star were McLafferty, Combe, Hamilton, Weir, Aird and Hislop – they brought the cup back to Victoria Park for another year.

Teams:
Newtongrange Star: McLafferty, Burrell, Duncan, Combe, Grandison, Hamilton, Scott, Murphy, Weir, Aird, Hislop. Subs: Young, McColl.
Broxburn Athletic: Ball, McOwat, Brown, Livingstone, Blair, Tait, McNaughton, Haxton, McWilliams, Pittman. Subs: Dickson, Garvie.
ROBERTSON HOMES CUP

ROUND

VENUE

OPPONENTS

SCORE

MATCH DETAILS

1

A

Polkemmet Juniors

4-0

Hislop 2, Murphy, Watson

2

H

Bo'ness United

0-0

A

Bo'ness United

0-3
HIGHLAND QUEEN LEAGUE CUP

| | | | | | | | | |
| --- | --- | --- | --- | --- | --- | --- | --- | --- |
| | PLD | W | D | L | F | A | GD | PTS |
| Bonnyrigg Rose | 6 | 6 | 0 | 0 | 14 | 2 | +12 | 12 |
| Newtongrange Star | 6 | 4 | 0 | 2 | 13 | 4 | +9 | 8 |
| Arniston Rangers | 6 | 2 | 0 | 4 | 6 | 10 | -4 | 4 |
| Penicuik Athletic | 6 | 0 | 0 | 6 | 5 | 22 | -17 | 0 |
OPPONENTS

VENUE

SCORE

MATCH DETAILS

Arniston Rangers

H

2-1

Hughes, Young

A

1-0

Young

Bonnyrigg Rose

H

0-1

A

0-2

H

4-0

Young, Aird, Hislop, OG

A

6-0

Scott 4, Hughes, Young
SQUAD LIST

Ronald McLafferty

Thomas McDermott

Lindsay Hamilton

Alex Prentice

Thomas Tulloch

Alistair Duncan

David Small

John Hislop

Thomas Watson

Gordon Grandison

Thomas Gilmour

Kenneth Russell

Kevin McColl

Brian Murphy

David Scott

Martin Munro

John Hughes

James Aird

Sandy Burrell

Colin Weir