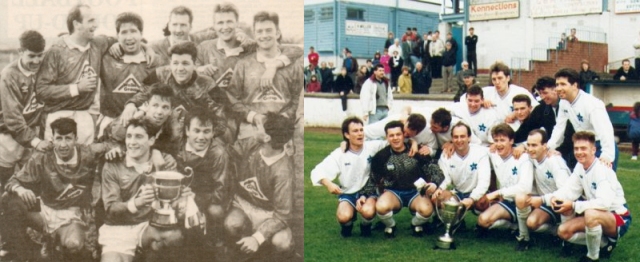 SKOL JUNIOR LEAGUE CUP & BROWN CUP WINNERS
JOHN WALKER LEAGUE FIRST DIVISION

| | | | | | | | | |
| --- | --- | --- | --- | --- | --- | --- | --- | --- |
| | PLD | W | D | L | F | A | GD | PTS |
| Fauldhouse United | 22 | 14 | 5 | 3 | 57 | 38 | +19 | 33 |
| Whitburn Juniors | 22 | 12 | 5 | 5 | 50 | 37 | +13 | 29 |
| Newtongrange Star | 22 | 11 | 6 | 5 | 48 | 25 | +23 | 28 |
| Camelon Juniors | 22 | 11 | 4 | 7 | 40 | 31 | +9 | 26 |
| Bo'ness United | 22 | 10 | 6 | 6 | 35 | 29 | +6 | 26 |
| Linlithgow Rose | 22 | 8 | 7 | 7 | 50 | 45 | +5 | 23 |
| Livingston United | 22 | 5 | 8 | 9 | 37 | 45 | -8 | 18 |
| Armadale Thistle | 22 | 5 | 8 | 9 | 33 | 41 | -8 | 18 |
| Edinburgh United | 22 | 7 | 4 | 11 | 30 | 39 | -9 | 18 |
| Bonnyrigg Rose | 22 | 5 | 7 | 10 | 38 | 47 | -9 | 17 |
| Bathgate Thistle | 22 | 5 | 6 | 11 | 31 | 38 | -7 | 16 |
| Bonnybridge Juniors | 22 | 4 | 4 | 14 | 23 | 57 | -34 | 12 |

Relegated from
First Division:

Bathgate Thistle
Bonnybridge Juniors

Promoted to
First Division:

Harthill Royal
Ormiston Primrose
OPPONENTS

VENUE

SCORE

MATCH DETAILS

Armadale Thistle

H

2-1

Cochrane, Bailey

A

2-1

Ramsay 2

Bathgate Thistle

H

2-0

O'Hara, Reilly

A

2-1

O'Hara, Bailey

Bo'ness United

H

1-1

O'Hara

Carswell, Cochrane, O'Donnell, Lumsdaine, McColl, Fraser, Reilly, O'Hara, Forrest, Ballantyne, Ramsay. Subs: Dall, Parkin.

A

1-2

Bailey

Bonnybridge Juniors

H

5-0

?

A

3-0

Cochrane, OG, O'Hara

Bonnyrigg Rose

H

3-2

?

A

3-0

Forrest, Bailey, Dall

Camelon Juniors

H

2-3

?, Buckley

A

1-2

?

Edinburgh United

H

5-1

Richardson 2, Ballantyne, Bailey, Miller

A

2-0

?, Ramsay

Fauldhouse United

H

1-1

O'Hara

A

1-2

Bailey

Linlithgow Rose

H

3-4

Bailey 3

Carswell, Aitchison, Fraser, Miller, McColl, Richardson, Ramsay, Lumsdaine, Forrest, Ballantyne, Bailey. Subs: Dall, O'Hara.

A

6-1

OG, Cochrane, McColl, Carswell, Bailey, Lumsdaine

Livingston United

H

1-1

Parkin

Carswell, Aitchison, O'Donnell, Lumsdaine, McColl, Fraser, Reilly, O'Hara, Forrest, Cochrane, Dall. Subs: Tracey, Parkin.

A

0-0

Whitburn Juniors

H

1-1

?

A

1-1

Ramsay
OVD SCOTTISH JUNIOR CUP

ROUND

VENUE

OPPONENTS

SCORE

MATCH DETAILS

CROWD

1

A

Dunbar United

6-2

Cochrane 2, Bailey 2, Ramsay 2

Carswell, Miller, Fraser, Lumsdaine, Aitchison, Richardson, Cochrane, O'Hara, Bailey, Ramsay, Reilly. Subs: Ballantyne, McColl.

2

H

Stoneyburn Juniors

2-0

Ramsay 2

3

A

Annbank United

2-0

Bailey, Ramsay

This game was postponed a number of times, consequently the tie was played at Meadow Park, Irvine.

4

A

Kilbirnie Ladeside

1-1

Bailey

H

Kilbirnie Ladeside

0-0

Carswell, Aitchison, O'Donnell, Lumsdaine, McColl, Fraser, Forrest, Parkin, Bailey, O'Hara, Ramsay. Subs: Reilly, Cochrane.

900

N

Kilbirnie Ladeside

0-1

1000
FIFE & LOTHIANS CUP

ROUND

VENUE

OPPONENTS

SCORE

MATCH DETAILS

1

A

Glenrothes

1-1

Ballantyne

H

Glenrothes

5-0

McColl, O'Hara, Cochrane, Lumsdaine, Ramsay

2

A

Bathgate Thistle

0-1
ALLOA BREWERIES CUP

ROUND

VENUE

OPPONENTS

SCORE

MATCH DETAILS

1

A

Broxburn Athletic

3-0

Richardson, Reilly, Foley

2

H

Stoneyburn Juniors

2-1

Parkin, Ramsay

QF

H

Camelon Juniors

2-4

Bailey 2
BROWN CUP

ROUND

VENUE

OPPONENTS

SCORE

MATCH DETAILS

1

Bye

2

H

Fauldhouse United

2-1

O'Hara, Reilly

QF

H

Camelon Juniors

1-0

Dall

SF

H

Bathgate Thistle

6-2

Carswell, Bailey 2, Ramsay 3

F

N

Armadale Thistle

3-1

Bailey, Ramsay 2

Carswell, McColl, O'Donnell, Miller, Aitchison, O'Hara, Reilly, Parkin, Bailey, Ramsay, Ballantyne. Subs: Forrest, Lumsdaine.
BROWN CUP FINAL

SUPER STAR ENDS SEASON BY GRABBING CUP DOUBLE
By Striker (Advertiser) at Newtown Park, Bo'ness

Junior Football season 92/93 finally finished last weekend with the playing of two concluding cup finals at Bo'ness and Arniston. Newtongrange Star who began the season winning the first trophy in December – the Skol Junior League Cup – finished off their season by winning another cup – The Brown Cup – to complete a fine double for the top Midlothian aces.

By beating Armadale 3-1, Newtongrange played their 48th game in season 92/93, scored 120 goals and conceded 50!

Messrs Bailey, Ramsay, Lumsdaine and Reilly had given Nitten the Skol Junior League Cup from Linlithgow winning 4-2 (trailing 0-2 at half-time remember!) and it was the same deadly scoring combination of Gordon Bailey and Paul Ramsay which saw Star retain the Brown Cup with something to spare in the end at Newtown Park, Bo'ness last Friday evening, the night before the Newtongrange Gala Day.

Twice before this season, Nitten had played Armadale in league encounters and won both 2-1, but by all accounts they had been well contested affairs and there was no room for complacency in the Buckley camp. Despite losing their last league match of the season 3-2 to Camelon three days before (Star had rested seven players and thrown away a 2-0 interval lead!) the return of the likes of Bailey, Ramsay, McColl, Carswell and Miller saw Nitten back at full strength along familiar lines.

As cupholders, Newtongrange were pre-match favourites but a big Armadale crowd was eager to see Thistle succeeded in what was for them a rare cup final.

Thistle had commendably beaten Bo'ness 3-1 in a replay after extra time in the semi-finals at Bo'ness while Star had walloped Bathgate 6-2. However, it was a lively Armadlae Thistle who attacked the ball and tested the Star defence early on with a thundering shot from left back Gibb giving Carswell an anxious moment.

The Star soaked up this expected early pressure with Alan Miller in particular in immense form for Nitten, while on the counter attack Gordon Bailey posed the biggest threat to the Jags. Armadale's red headed pivot Cowan was winning the aerial battle against Paul Ramsay who, however, eventually had the last laugh netting twice in the cup final.

Porteous, the scorer of 22 goals, a lively no. 9 for Armadale, with his burst of speed, and Kevin McColl was booked in 30 minutes for pulling him down. From the resultant 20 yard free kick Carswell made light of the shot at goals from McMillan.

The first half saw both teams strong in defence with precious little in the way of goalmouth excitement but just one minute from the break Star struck cup final gold!

And it was super-striker Gordon Bailey, who prised open the Thistle defence in 44 minutes on to a through pass to round keeper Rab Douglas and hit home a brilliant opportunistic goal to send the cupholders in at the break 1-0 up.

However, not before Gordon was booked for a small misdemeanour aimed at a section of the crowd!

Armadale were expected to fight all the way to the final whistle and they did, but a confident, composed Star went on in that second half to win the cup fairly comfortably in the end.

Four minutes into the second half and Tom Aitchison was booked (only his second of the season) for a foul. Nitten went 2-0 up when a cross from Jim Reilly was missed for once by pivot Cowan and gleefully Paul Ramsay drilled the ball into the Armadale net from 10 yards to open up a cup winning margin.

Now the Star could relax a bit and stroke the ball around well and they entertained with some classy football.

Plucky Thistle didn't give up and only three minutes after Ramsay's goal Thistle bounced back courtesy of an Alan Carswell blunder!

In 63 minutes, a corner was swung over from the Thistle right and buttery finger Alan dropped the easy catch onto the head of McKean who headed home Thistle's Cup final consolation goal.

Armadale thought they were back in the final and for a brief spell Nitten had to stiffen their resolve as Thistle were roared on by their big support.

But Ballantyne was denied by a brilliant save by Douglas touching a tremendous volley from the Star striker on to the crossbar. A Paul Ramsay rocket shot was just inches wide as Armadale introduced attacking substitutes going all out for the equaliser now.

In 82 minutes Bobby Forrest substituted for Gordon Bailey but in the very last minute a sweeping, brilliant move the length of the park, involving McColl and Miller, ended with Paul Ramsay hitting home his own second and Newtongrange's third Cup final goal to end the season on the highest note as winners of the Brown Cup.
PETER CRAIGIE CUP

ROUND

VENUE

OPPONENTS

SCORE

MATCH DETAILS

1

H

Edinburgh United

5-0

Cochrane, Bailey 2, Ramsay, Parkin

2

A

Dunbar United

3-2

Bailey, O'Hara, Lumsdaine

QF

A

Haddington Athletic

0-2
SKOL JUNIOR LEAGUE CUP

| | | | | | | | | |
| --- | --- | --- | --- | --- | --- | --- | --- | --- |
| | PLD | W | D | L | F | A | GD | PTS |
| Newtongrange Star | 4 | 4 | 0 | 0 | 17 | 4 | +13 | 8 |
| Arniston Rangers | 4 | 2 | 0 | 2 | 9 | 11 | -2 | 4 |
| Ormiston Primrose | 4 | 0 | 0 | 4 | 6 | 17 | -11 | 0 |
OPPONENTS

VENUE

SCORE

MATCH DETAILS

Arniston Rangers

H

3-1

Bailey, Forrest, Lumsdaine

A

4-1

Dall, Ballantyne, Ramsay, ?

Ormiston Primrose

H

2-0

Richardson, Ramsay

A

8-2

Lumsdaine, Forrest 2, Richardson 2, Ramsay, Bailey, OG

Carswell, Aitchison, Fraser, Miller, McColl, Richardson, Dall, Lumsdaine, Forrest, Ballantyne, Ramsay. Subs: Tracey, Bailey.
ROUND

VENUE

OPPONENTS

SCORE

MATCH DETAILS

QF

A

Fauldhouse United

4-1

Richardson, Forrest 2, Foley

SF

A

Camelon Juniors

2-0

Bailey, Ballantyne

Carswell, Miller, Fraser, Lumsdaine, McColl, Richardson, Ramsay, O'Hara, Bailey, Ballantyne, Forrest. Subs: Reilly, Tracey.

F

N

Linlithgow Rose

4-2

Bailey, Ramsay, Lumsdaine, Reilly

Carswell, Miller, Aitchison, Lumsdaine, McColl, Fraser, Ramsay, Ballantyne, Bailey, Forrest, O'Hara. Subs: Reilly, Cochrane.

[programme]
SKOL JUNIOR LEAGUE CUP FINAL
Craig Lumsdaine scores the third goal...

...and the celebrations that follow

McColl holds the Cup aloft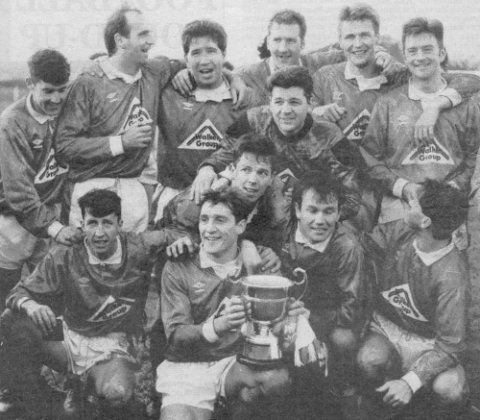 NEWTONGRANGE FIGHTBACK STUNS LINLITHGOW
By Striker (Advertiser) at Newbyres Park, Gorebridge

The Star played the first half of this Skol Junior League Cup Final at neutral Newbyres Park, Gorebridge like a Primary Six girls team from Sixth Street to trail 2-0 at the break.

But once Gordon Bailey had broken the Linlithgow defence's stubborn resistance then the Star were on their way to victory over the West Lothian aces who finished with only nine players after having two off in the second half.

So the crown of the East Region's number one still shines above Victoria Park after yet another cup final victory for John Buckley's gladiators.

The Star had experience from jersey number one out to number 11 but in that nightmare first 45 minutes they were so uncharacteristic - passing badly, tackling weakly and generally looking hung over.

It was no surprise therefore when Linlithgow opened their account in the 11th minute from their first corner on the left taken by "Grinder" Halcrow.

The Star defence looked static as Aitchison first blocked a McGonigal shot on the line but STEVIE BICKMORE stabbed the rebound home to give the Rose first blood.

Second best in the air, the Nitten outfit were losing out in the tackle too and the Star brows were further furrowed when big MALCOLM MORRISON showed the way forward with a brilliant but unchallenged headed goal in the 29th minute that had the Linlithgow fans dancing on the terraces.

Following this Mark Ballantyne tried to shake some life into a lacklustre Star midfield but despite some signs of a spirited response, like Craig Lumsdaine hitting the bar, Star took their break 2-0 down and deservedly so.

But after the interval it was pure "Roy of the Rovers" stuff with the final turned on it's head as Nitten exploded back into a game in which they had looked dead and buried in THE most dramatic turnaround in any cup final.

To their credit, Linlithgow kept the game open and attacking but eventually the Star broke their duck in 67 minutes.

Top scorer GORDON BAILEY - that marksman supreme - took a pass from Paul Ramsay to score with a brilliant finish beating keeper Mark Glynn to offer the Star the chance of a revival.

Another marksman of the highest order PAUL RAMSAY - brought the scores level in the 76th minute when he bulleted home a pass from Gordon Bailey as the two strikers combined magnificently to carve open a crumbling Rose defence.

And crumbling they were just one minute later as CRAIG LUMSDAINE scored number three - Nitten's 60th goal of the season - again with clever play in the danger zone.

It was now Newtongrange Star's supporters who were doing the dancing on the terraces. Derek Halcrow (booked earlier) was sent off in the 79th minute for retaliating against Bailey for his challenge on keeper Mark Glynn.

And with the mayhem - particularly for Linlithgow - now continuing there was further disaster for Rose when Scottish International keeper Mark Glynn received his marching orders for a fairly soft challenge on Bailey just five minutes from time.

Applying the rule strictly, referee Underhill was correct as Bailey was clean through but there was some sympathy for Glynn's frustration.

Left back Kearney deputised in goal for the now beaten nine man Linlithgow.

Jim Reilly substituted for Mark Ballantyne and Robert Cochrane also got on in the dying stages.

The icing on the cake as Nitten retained the League Cup came in the last minute when JIM REILLY waltzed through the demoralised Linlithgow defence to beat Kearney for a stunning fourth and final goal.

The big Nitten support stayed behind to cheer their heroes as John Wilson of the sponsors, the Alloa Brewery Company, presented skipper Kevin McColl with the Skol League Cup.

Teams:
Newtongrange Star: Carswell, Miller, Aitchison, Lumsdaine, McColl, Fraser, Ramsay, Ballantyne, Bailey, Forrest, O'Hara. Subs: Reilly, Cochrane.
Linlithgow Rose: Glynn, McKeeman, Kearney, Malcolm, Morrison, Fowler, Curran, Thorpe, Bickmore, McGonigle, Halcrow. Subs: Ormond, Clark.

Ref: J. Underhill (Edinburgh)
TOP SCORERS

Gordon Bailey

28

Paul Ramsay

20

Tony O'Hara

9
SQUAD LIST

Allan Carswell

Mike Meechan

John Brough

Gordon Fraser

Jackie O'Donnell

Kevin McColl

Tam Aitchison

Gordon Wilson

Stevie Richardson

Alan Miller

Mark Ballantyne

Tony O'Hara

Craig Lumsdaine

Gordon Parkin

Stuart Dall

Bobby Forrest

Craig Cunningham

Gordon Bailey

Jimmy Reilly

Robert Cochrane

Kevin Foley

Derek Tracey

Paul Ramsay

John Buckley