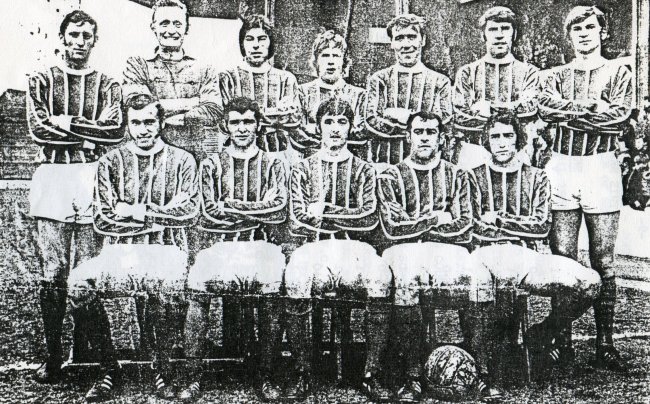 | | |
| --- | --- |
| Back row: | Knox, Hogg, Printy, Sproull, Rennie, Gardner, Hay |
| Front row: | Anderson, Hancock, Stoddart, Purcell, Hastie |
EAST REGION MID/EAST DIVISION

| | | | | | | | |
| --- | --- | --- | --- | --- | --- | --- | --- |
| | PLD | W | D | L | F | A | PTS |
| Musselburgh Athletic | 19 | 15 | 3 | 1 | | | 33 |
| Newtongrange Star | 20 | 12 | 6 | 2 | | | 30 |
| Arniston Rangers | 18 | 11 | 2 | 5 | | | 24 |
| Tranent Juniors | 19 | 9 | 4 | 6 | | | 22 |
| Bonnyrigg Rose | 19 | 9 | 3 | 7 | | | 21 |
| Haddington Athletic | 20 | 8 | 5 | 7 | | | 21 |
| Penicuik Athletic | 18 | 7 | 3 | 8 | | | 17 |
| Dalkeith Thistle | 20 | 7 | 2 | 11 | | | 16 |
| Dunbar United | 20 | 5 | 4 | 11 | | | 14 |
| Peebles Rovers | 20 | 3 | 2 | 15 | | | 8 |
| Preston Athletic | 18 | 1 | 4 | 13 | | | 6 |



OPPONENTS

VENUE

SCORE

MATCH DETAILS

Arniston Rangers

H

2-2

Anderson, Hancock

A

2-1

Purcell 2

Bonnyrigg Rose

H

3-1

Anderson, Purcell, Hancock

A

3-2

?

Dalkeith Thistle

H

5-2

Hancock 3, Stoddart 2

A

8-0

Anderson 4, Hancock 2, Purcell, Stoddart

Dunbar United

H

3-1

?

A

Haddington Athletic

H

2-1

?

A

1-1

?

Musselburgh Athletic

H

A

1-1

?

Peebles Rovers

H

7-0

Purcell 4, Stoddart, Hancock, Hay

A

4-0

Hay 3, Purcell

Penicuik Athletic

H

2-2

Stoddart

Newman, McGillivray, Forrester, Sproull, Rennie, Gardner, Hay, Hancock, Stoddart, Purcell, Hastie. Sub: Anderson.

A

4-1

Stoddart 2, Hancock, Anderson

Preston Athletic

H

2-0

Hay, Middlemist

A

Tranent Juniors

H

A

3-3

?
SCOTTISH JUNIOR CUP

ROUND

VENUE

OPPONENTS

SCORE

MATCH DETAILS

CROWD

1

A

Shotts Bon Accord

1-1

Anderson

H

Shotts Bon Accord

2-0

Stoddart, Hancock

Shotts lodged a successful protest against an ineligible player.

H

Shotts Bon Accord

2-0

Hancock, Hastie

2

A

Craigmark Burntonians

5-2

Hay 3, Anderson, Hastie

3

H

Vale of Leven

3-0

Hancock, Purcell, Hay

4

H

Dundee North End

1-0

Hancock

5

A

Glenrothes

2-1

Anderson, Hastie

Hogg, Knox, Printy, Sproull, Rennie, Gardner, Anderson, Hancock, Hay, Purcell, Hastie.

3500

QF

H

Cumbernauld United

2-1

Stoddart 2

SF

N

Dalkeith Thistle

3-2

Purcell, Hancock, Stoddart [programme]

12,159

F

N

Cambuslang Rangers

1-2

Stoddart

Hogg, Knox, Printy, Sproull, Rennie, Gardner, Anderson, Hancock, Stoddart, Purcell, Hastie. Sub: Forrester.

[programme]

24,676
SCOTTISH JUNIOR CUP SEMI-FINAL
HAMPDEN TRIP FOR STAR
By Dominie (Evening News)

Centre-forward Brian Stoddart was the hero of Newtongrange last night when he nodded the Star towards Hampden with a great goal against Dalkeith Thistle in the Scottish Junior Cup semi-final at Easter Road.

WIth 64 minutes gone and the teams locked at 2-2, Iain Anderson chased a loose ball, squarred to Jim Hastie who cut the ballback accurately for Stoddart to head home the deciding goal.

The feeling of the neutrals in the 12,000-plus crowd could be summed up in the words of John Harvey of Hearts.

"The crowd got their money's worth," he said. "Five grand goals, two challenging sides, plenty of clever football and an abundance of excitement. What more could one ask for. Both teams can take credit for an entertaining match."

Also enthusiastic in his praise was president of the SJFA, Willie Blaney. "A grand advertisement for the Junior game," he added. "The Juniors are very appreciative of the gesture of Hibernian in granting the use of Easter Road free of charge."

His praise was reinforced by secretary, Hugh Biggart, who said: "The high standard of play was attribute to the East of Scotland clubs. In my opinion either club would have been worthy finalists."

DISAPPOINTED

The Dalkeith secretary, Willie Wilson, was naturally disappointed and his summing up will be echoed by every Dalkeith heart. "I don't think we should have been beaten, we were in no way inferior to the Star."

On the other hand a delighted Jimmy Kirkwood recalled: "It was May 15, 1930, that the Star won the 'Scottish' against Hall Russells. I remember for I helped carry the team's hamper on that occasion but on May 15, 1971, it won't be the hamper I'll be carrying at Hampden. It will be the Cup!"

Pat Purcell gave the Star a fine start with a well-engineered goal in three minutes. Dalkeith hit back when Maxie Anderson flicked in a Young corner kick. A characteristic burst of acceleration carried Steve Hancock clear of the Dalkeith defenders to put the Star ahead again in 55 minutes.

But two minutes later Bobby Reid, the Thistle right back, scored a brilliant equaliser with a thundering 25 yards volley. Then came Stoddart's winner.

The cliché, "the goal that won the tie" is overworked and it is the save that won the game that will be remembered.

In a stirring Dalkeith rally, Tich Veitch chipped in a shot that looked a scorer all the way. Somehow Bobby Hogg managed to tip the ball to safety.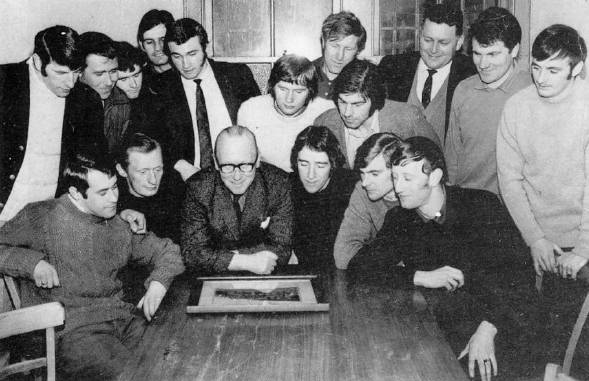 Dave Pryde shows the 70/71 squad a picture of the Scottish Junior Cup winners of 1930.
SCOTTISH JUNIOR CUP FINAL
15th May 1971, Hampden Park, Glasgow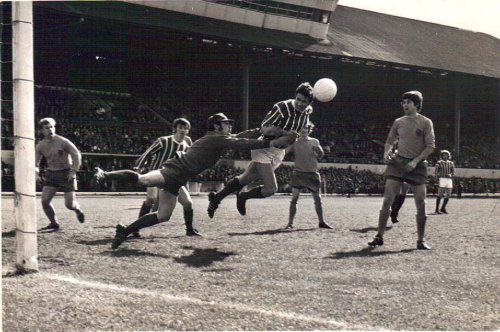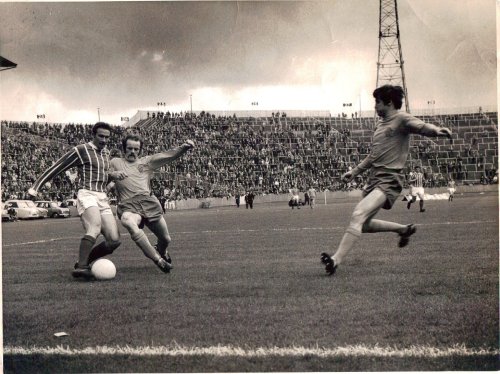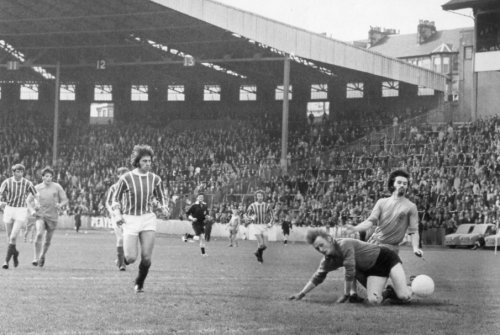 Nelson scores the winning goal for Cambuslang Rangers
VALIANT STAR PIPPED IN FINAL

NEWTONGRANGE Star did enough to win the Scottish Junior Cup at Hampden Park on Saturday. With only three minutes of the first half left, they were leading 1-0. At halftime they were trailing by one goal. The score then was probably a fair reflection of the play.

But the second half belonged to the Star. They were in complete command and always looked like scoring but never did. And so the cup went to the odds-on favourites, Cambuslang Rangers, in one of the most sporting finals for many a year.

The Hampden pitch was bone hard with a slippery film on top caused by a downpour shortly before the kick-off. Newtongrange fielded the side that beat Dalkeith Thistle in the semi-final.

In the first minute they almost stole a shock lead. From a corner, Anderson floated a high ball into the goalmouth. Centre forward Stoddart climbed above the defence but his header went straight into the arms of keeper White.

Crisp inter-passing by the Cambuslang forwards ended in a corner which was punched clear by Bobby Hogg.

Rangers were beginning to adapt more to the slippery conditions and their cohesive play had the Star defence in all sorts of trouble. Left winger McCallum was floating over some very useful balls but his fellow forwards found it difficult to keep their footing on the tricky conditions.

Star's best move of the game came in the 17th minute when Steve Hancock chipped a neat hall to Stoddart who forced Mordue to concede a corner. The next minute saw Anderson dispossess Craig to gain another corner.

PRESSURE

Stoddart was Star's best forward. His timing in the air was superb and was causing havoc among the tall Cambuslang defenders.

Newtongrange were under constant pressure and in a number of goalmouth scrambles they were fortunate not to lose a goal.

Their passing was poor and inaccurate and their marking too loose. Cambuslang were completely on top.

But in the 27th minute it was Newtongrange who took an undeserved lead.

The ball was pumped upfield by Gardner but went straight into the hands of White who let it slip behind to give Stoddart the easiest task of prodding the ball into the empty net.

The pressure was kept up and Hastie had a fierce angled shot which hit the side rigging. The slippery conditions were spoiling promising moves from both teams.

Then, just as the Star defence were beginning to look composed, Cambuslang got the equaliser they deserved. A header from Cummings found Paterson who slammed the ball past Hogg from ten yards.

The Star were hardly recovered from this blow when Cambuslang went into the lead. In a goalmouth scramble Nelson harassed Hogg to slip the ball into the net.

Hogg required attention from veteran trainer Jock Denholm. At half-time he limped towards the dressingroom.

SHOCK

The second half started, as in the first half, with Newtongrange winning a corner which resulted in a goal kick.

A shot from Celtic buy Steve Hancock was deflected for a corner which was also fruitless. All the pressure was coming from the Star at this stage.

Then in the 55th minute "Nitten" were dealt a severe blow – goalkeeper Bobby Hogg was helped to the dressingroom after being injured during a corner clearance.

Forrester came on as substitute for Star and Printy took over in goal. But the shock of losing their keeper did not deter Star and immediately they were back on the attack.

From a corner in the 58th minute Stoddart almost got the equaliser, but his header was well handled by goalkeeper White.

Stoddart was close again when his shot went narrowly past the post.

In the next minute, a defence-splitting pass left Neilson in the clear but his shot went well wide of the post when had only Printy to beat. Soon after, Cummings had a chance to increase his team's lead, but his header hit the bar and was cleared.

An angled shot from Hastie in the 65th minute was well stopped by White, who was also on hand to stop a dangerous header from Stoddart. Star were now well on top and it only seemed a matter of time before they would score.

Steve Hancock nearly got the equaliser with a superb flying header which skimmed across the goal face narrowly missing the target. Hancock, who had been prominent in the early stages, showed what a good forward he is when in the 72nd minute he rose high to head narrowly over the bar from 12 yards.

In the 73rd minute Hastie was brought down in the box and the referee, Mr A. McGunnigle, of Glasgow, was greeted with a hail of protests when he awarded an indirect free kick which resulted in a goal kick.

In the dying minutes, Hancock shot narrowly wide after a good chip from Hastie, and Stoddart came close with a header and later a shot. Star were still on the attack when the final whistle went.

Teams:
Newtongrange Star: Hogg, Knox, Printy, Sproull, Rennie, Gardner, Anderson, Hancock, Stoddart, Purcell, Hastie. Sub: Forrester.
Cambuslang Rangers: White, Sturgeon, Scullion, McNeill, Mordue, Lowrie, Cumming, Craig, Paterson, Nelson. Sub: Gibson.

Ref: A. McGunnigle (Glasgow)
FIFE & LOTHIANS CUP

ROUND

VENUE

OPPONENTS

SCORE

MATCH DETAILS

1

Bye

2

H

Valleyfield Colliery

4-1

Stoddart, Hastie, Anderson, ?

3

H

Newburgh

3-2

?

QF

A

Tulliallan Thistle

5-2

Purcell 2, Hay, Hancock, Anderson

SF

?

Glenrothes or Camelon

<lost>
EAST OF SCOTLAND CUP

ROUND

VENUE

OPPONENTS

SCORE

MATCH DETAILS

1

H

Linlithgow Rose

1-0

Hancock

2

A

Broxburn Athletic

0-2
ST MICHAELS CUP

ROUND

VENUE

OPPONENTS

SCORE

MATCH DETAILS

1

A

Bonnybridge Juniors

2-1

Hancock, Hastie

2

H

Broxburn Athletic

1-1

Hancock

A

Broxburn Athletic

2-3

?
BROWN CUP

ROUND

VENUE

OPPONENTS

SCORE

MATCH DETAILS

1

H

Whitburn Juniors

1-1

Anderson

A

Whitburn Juniors

1-3

Hancock
R L RAE CUP

ROUND

VENUE

OPPONENTS

SCORE

MATCH DETAILS

1

H

Bathgate Thistle

2-1

?

2

A

Camelon Juniors

4-1

Hancock 2, Stoddart, Hastie

QF

H

West Calder United

7-1

Hancock 3, Hastie 3, Purcell

SF

H

Tranent Juniors

2-2

Purcell, Hastie

A

Tranent Juniors

2-0

Hancock, Hay

F

N

Dalkeith Thistle

0-2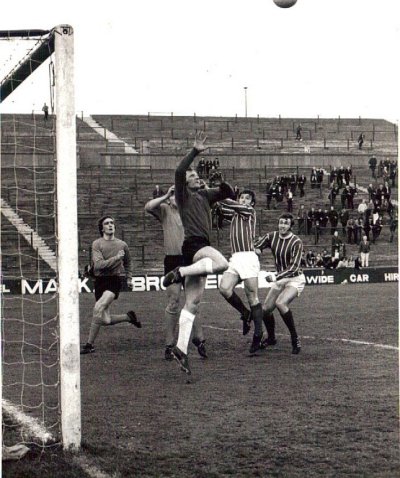 Goalmouth action from the R L Rae Cup Final - Dalkeith Thistle v Newtongrange Star.
(This photograph was originally published in The Scotsman and was kindly provided by Iain Anderson)
NATIONAL DRYBOROUGH CUP

ROUND

VENUE

OPPONENTS

SCORE

MATCH DETAILS

1

?

Cambuslang Rangers

0-2